Article
DPR Homeownership Program Index released: Nearly 2,500 Programs Available to Homebuyers
June 8, 2016
Homeownership Program Funding Up Slightly; Nearly 2,500 Programs Available to Homebuyers
Atlanta, GA, June 9, 2016 – Atlanta-based Down Payment Resource, the nationwide databank for homebuyer programs, today released its Second Quarter 2016 Homeownership Program Index (HPI). There are now 2,477 homeownership programs available and 85 percent currently have funds available for eligible homebuyers, up one percent from the previous quarter. The average down payment program benefit across all programs is $8,260.
"These programs are now the last frontier to address homeownership affordability. Rates are never going to be substantially lower, and home prices continue to trend higher," said Rob Chrane, CEO of Down Payment Resource. "Homeownership programs can help buyers overcome the critical cost of entry."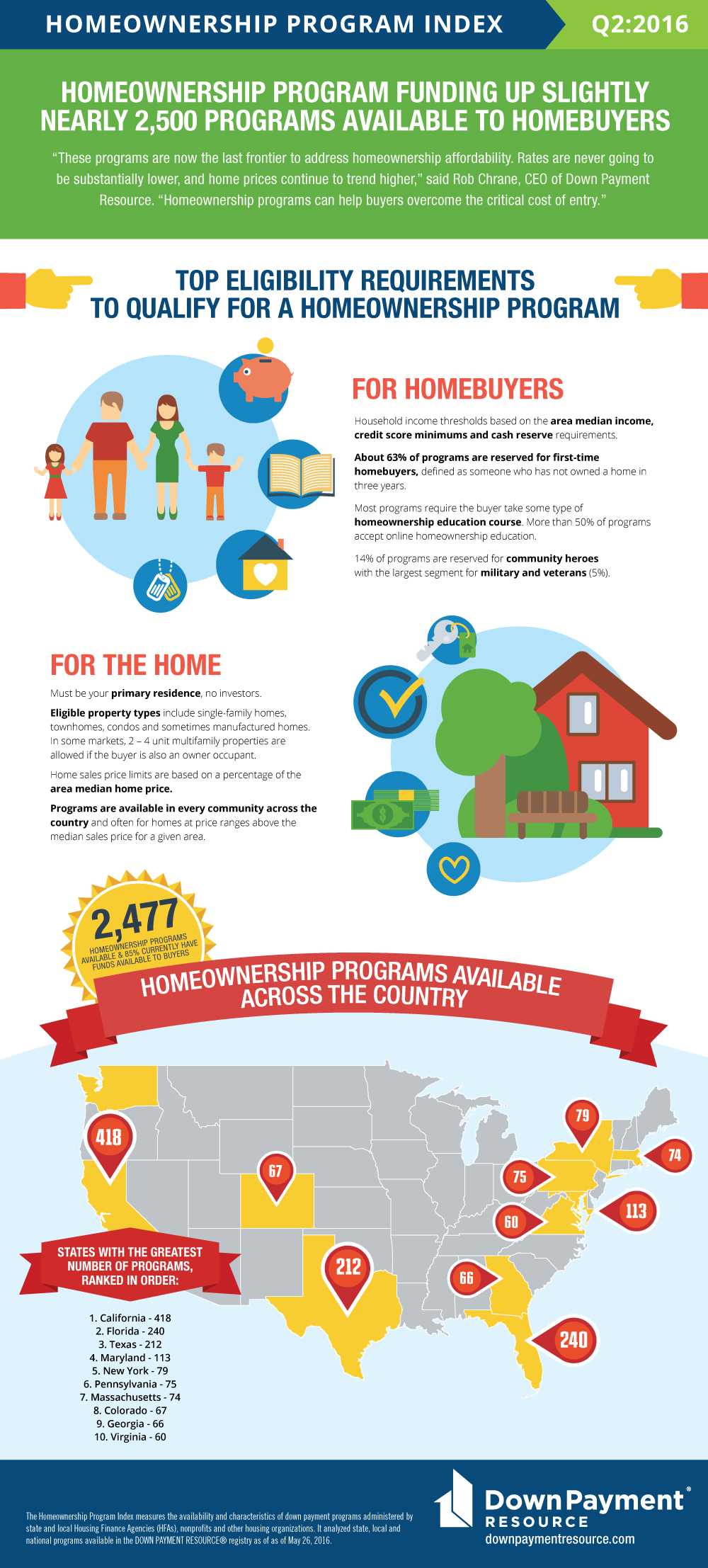 Veterans top community hero category
Specific incentives are available for community heroes across 14 percent of homeownership programs. These programs include special benefits for veterans, educators, protectors, firefighters, healthcare workers and disabled homebuyers. Approximately 5 percent of programs are for veterans or members of the military.
Programs available across the country
There are 23 programs available nationwide and 23 percent of the programs are available state-wide. Regionally, the most programs are found in the South (978), followed by the West (744). View a complete list of state-by-state program data.
Top eligibility requirements
To qualify for a homeownership program, both the buyer and the property must meet certain criteria, which vary by program.
Top eligibility requirements for homebuyers include:
Household income thresholds which are based on the area median income, credit score minimums and cash reserve requirements.
About 63 percent of programs are reserved for first-time homebuyers, defined as someone who has not owned a home in three years.
14 percent of programs are reserved for community heroes with the largest segment for military and veterans (5 percent).
Most programs require the buyer to complete a homeownership education course. Today, more than 50 percent of programs accept online homeownership education.
Top eligibility requirements for the home include:
The property must be used as a primary residence.
Eligible property types include single-family homes, townhomes, condos and sometimes manufactured homes. In some markets, 2 – 4 unit multifamily properties are allowed if the buyer is also an owner occupant.
Home sales price limits are based on a percentage of the area median home price. This means the maximum home price can range from $250,000 up to over $700,000 in high cost markets.
Programs are available in every community across the country and often for homes at price ranges above the median sales price for a given area.
Significant program updates
Program information is constantly changing. In order to ensure information is current for real estate professionals and homebuyers, Down Payment Resource researchers verify and update program data monthly. More than 1,180 programs were edited since the prior update. Updates may include eligibility guidelines, benefits, program name, funding status and/or coverage area.
 About Down Payment Resource
Down Payment Resource (DPR) creates opportunity for homebuyers, Realtors and lenders by uncovering programs that get people into homes. The company tracks nearly 2,500 homebuyer programs through its housing finance agency partners. Winner of the 2011 Inman News Innovator "Most Innovative New Technology" award, DPR is licensed to Multiple Listing Services, Realtor Associations, lenders and housing counselors across the country. For more information, please visit www.DownPaymentResource.com and on Twitter at @DwnPmtResource.
About Down Payment Resource's Homeownership Program Index
The Homeownership Program Index (HPI) measures the availability and characteristics of down payment programs administered by state and local Housing Finance Agencies (HFAs), nonprofits and other housing organizations. It analyzed state, local and national programs available in the DOWN PAYMENT RESOURCE® registry as of May 26, 2016.
# # #