Down Payment Resource Gives Back
Beverly Faull Affordable Housing Leadership Award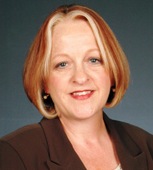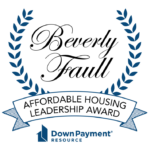 The Beverly Faull Affordable Housing Leadership Award is named in memory of accomplished real estate veteran Beverly Faull and recognizes an individual who has demonstrated leadership in providing more access to homeownership and affordable housing finance solutions.
As a well respected veteran in the MLS and housing industry and one of Down Payment Resource's (DPR) first employees, Faull truly believed in the company's mission to provide greater access and awareness to down payment assistance programs.
Nominations for 2022 candidates are now open!
Past Award Recipients
2021 Award honors Homes for Heroes founder and CEO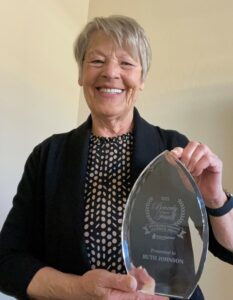 After over 40 years of success in the real estate industry, Ruth Johnson says Homes for Heroes is her most rewarding accomplishment.
Ruth is the founder and CEO of Homes for Heroes, a national network of real estate, mortgage and local business specialists that provide housing services at a reduced cost to healthcare professionals, teachers, first responders active military and veterans. To date, Homes for Heroes has helped give back $100 million in Hero Rewards to more than 50,000 heroes and their families so they can reach their homeownership dreams.
"I am incredibly honored to be named a Beverly Faull Affordable Housing Leadership Award recipient," said Ruth. "In the age of Covid, it is more important than ever to give back to the brave heroes that have remained dedicated to serving our country and its diverse communities throughout this crisis. Helping those heroes has been a lifelong passion of mine, and I look forward to continuing this mission with Homes for Heroes for years to come."
Read more about the 2021 award.
2020 Award Presented to NAREB for advocating for equal opportunity affordable housing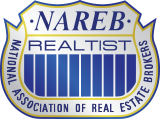 Founded in 1947, NAREB is the oldest professional organization for Black and minority real estate professionals. Their mission is "Democracy in Housing", and their policy agendas and recommendations are focused on eliminating the barriers to Black homeownership and improving the community at large.
Since their inception, NAREB has been influential in significant policy achievements and reframing the narrative on homeownership for future generations. Last year, NAREB launched a national campaign to educate GenX, millennials, GenY and GenZ's on the value of creating generational wealth through homeownership. DPR partnered with NAREB to add the DPA Downpayment Widget to the NAREB website with a goal of providing potential homebuyers access to down payment help in their markets.
"NAREB's passion for promoting homeownership in underserved communities is transforming the affordable housing industry. Innovative campaigns, such as the millennial marketing program, are making a measurable impact in Black communities across the country," said Rob Chrane, CEO of Down Payment Resource.
Read more about the 2020 award.
2019 Award Presented to Tonya Todd for championing affordable housing programs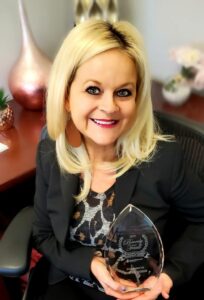 Tonya Todd's vast career has helped advance affordable loan options in markets across the country. She is instrumental in working with housing agencies around the country to develop and design loan programs to operationally serve their lending community while keeping the lowest rate possible for the homebuyer. At HilltopSecurities, she works closely with housing finance agencies, their lenders, Fannie Mae, Freddie Mac, Mortgage Insurance Companies and other industry partners to support down payment assistance programs. Todd regularly writes and speaks about the benefits of affordable housing for both buyers and lending institutions.
While at Mountain West Financial, a regional lender in California, Todd received an Honorable Mention at MBA's 2016 Diversity and Inclusion awards for the company's efforts in promoting down payment assistance programs.
"We are pleased to honor Beverly's passion for affordable housing, education and access to down payment assistance programs. Leaders like Tonya Todd are helping carry forward this important housing mission," said Rob Chrane, CEO of Down Payment Resource.
The award includes a financial donation by DPR to the recipient's housing non-profit of choice. Todd will designate the award to eHome America where it will go to support their mission to prepare mortgage ready buyers with online homebuyer education.
Read more about the 2019 award.
2018 Award Presented to John O'Callaghan for his positive impact on affordable housing in Atlanta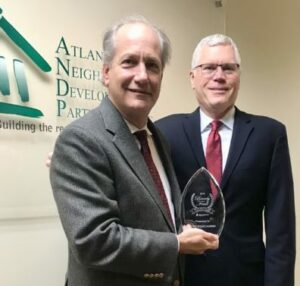 John O'Callaghan has decades of experience advocating for affordable housing in Atlanta and beyond. As
President and CEO of the Atlanta Neighborhood Development Partnership, Inc. (ANDP), O'Callaghan leads the organization's policy and housing development programs and also spearheaded a regional foreclosure response initiative that was awarded the National Housing Conference 2015 Housing Visionary Award.
"We're proud to recognize someone who is making a positive impact on housing in Atlanta. Under O'Callaghan's leadership ANDP has been a model of how nonprofit organizations can serve and support the unique needs of their communities," said Rob Chrane, CEO of DPR.
The award includes a financial donation by DPR to the recipient's housing non-profit of choice. O'Callaghan will designate the award to ANDP where it will be used to support the organization's efforts to lift homeownership in communities of color. Since the foreclosure crisis, the organization has focused development strategies in neighborhoods struggling with high levels of negative equity. Under O'Callaghan's leadership, more than 500 foreclosed and vacant homes have been returned to affordable homeownership and more than 800 homebuyers have been connected to down payment assistance.
Read more about the 2018 award.
---
Habitat for Humanity
Down Payment Resource believes in Habitat for Humanity's mission of bringing people together to build homes, communities and hope. Each year, our company sponsors and participates in Habitat builds with our partners.
Learn more about the families we've helped.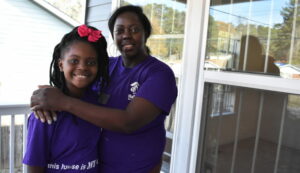 Ms. Brown grew up in her mother's home and wanted that stability for her own daughter's future, as well as a safe community where she could play. She works in housekeeping at a medical facility. She enjoys cooking and volunteering at her daughter's school. Together, Ms. Brown and her daughter stood on the front porch as they accepted their keys to the house. Her daughter wiped happy tears from her eyes as she watched her mom share what this home meant to her, and thanked her family and the volunteers for their support. Our team participated in the final build day for their new home. Read Ms. Brown's full story.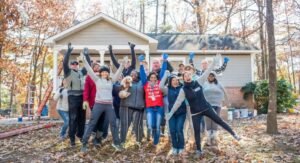 Gwendolyn has been a successful Habitat homeowner for more than 10 years — she moved in when her daughter was just in elementary school and now she's headed to Georgia State University to earn her nursing degree. Gwen tearfully shared how much this home meant to her and her small family. Some of her coworkers at Georgia Tech helped her build this home years ago. Her homeownership goal was achieved with the help of Habitat, sweat equity, hard work and multiple homebuyer classes. She raised her daughter here and became a part of the community. And, on this cold day, she joined us in painting the exterior of her home. Read Gwendolyn's full story.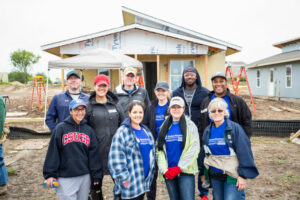 Delores Robinson has lived in Austin, Texas her whole life and for the past seven years she has been working as a Bus Monitor for Austin Independent School District. She will live in her new home with her 16-year old great-grandson, Jaquan. Delores believes that owning a home will change her life because she'll have more stability and won't have to worry about where she will live next year. Our team and members of the Austin Board of REALTORS participated in a build day for the new home. See more photos.
---
Giveback Homes
Down Payment Resource partners with Giveback Homes on our Habitat for Humanity builds as well as efforts to support families impacted from natural disasters. Giveback Homes collaborates with real estate professionals to do social good in the U.S. and across the globe.