Article
Down Payment Resource Is Back in the Wild in 2022
May 25, 2022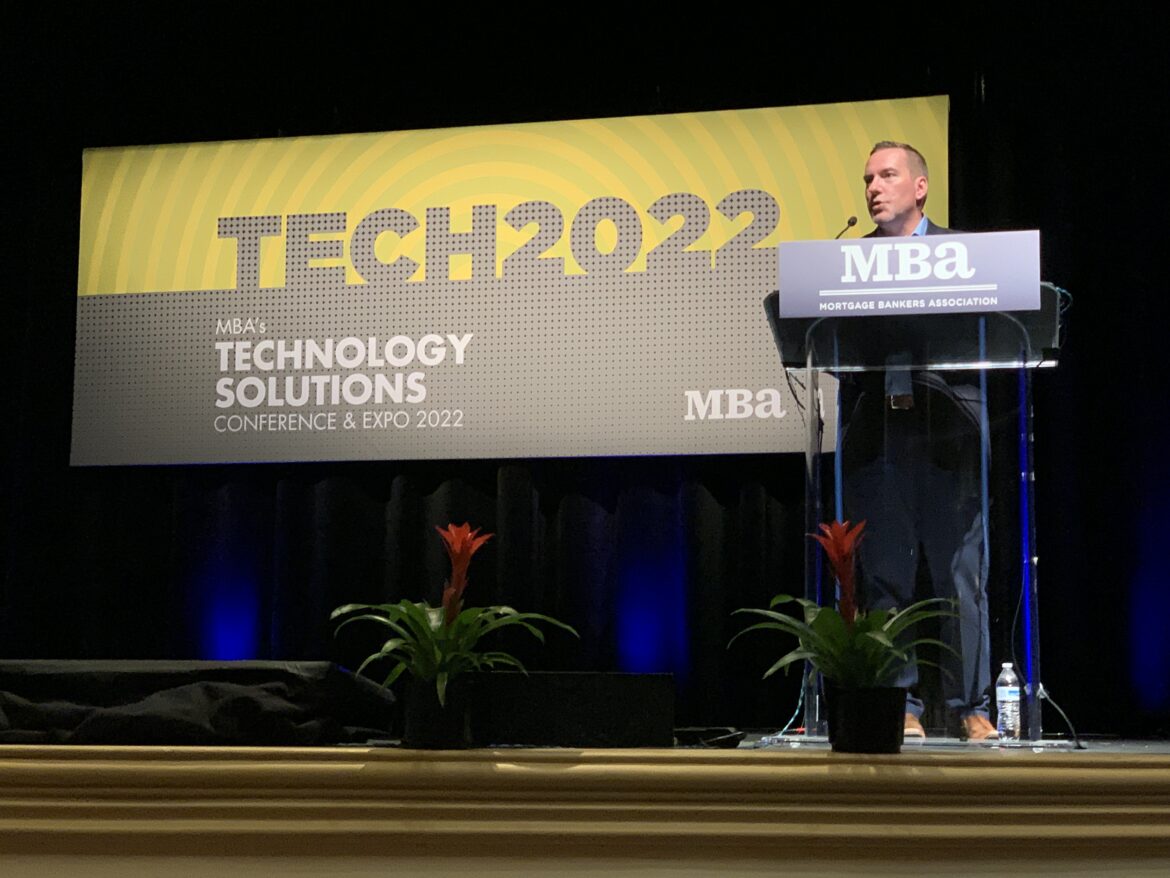 After nearly two years stuck at home dealing with pesky technical difficulties on Zoom and Teams, in-person conferences are finally back in action! We've hit the ground running at Down Payment Resource (DPR) this year – taking every opportunity we can to meet face-to-face and show mortgage professionals all the opportunities that down payment assistance (DPA) can create for lenders, real estate professionals and consumers. Here's what we've been up to so far.
MBA IMB Conference – January 24-27, Nashville, TN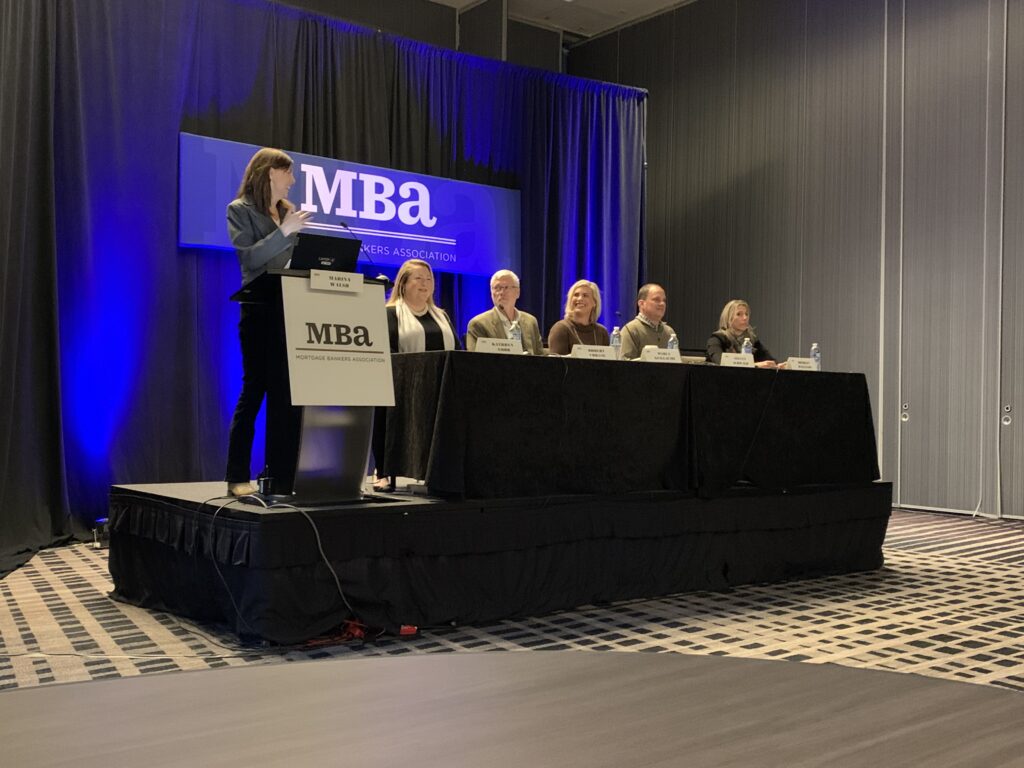 We kicked off our year back in the wild at the Mortgage Bankers Association (MBA) Independent Mortgage Bankers (IMB) conference in Nashville, TN, where our Founder and CEO Rob Chrane spoke on the panel "Finding the Loans – Products, Market and Channel Strategy."
He was joined onstage by MBA Vice President of Industry Analysis Marina Walsh, CMB, and leaders from Finance of America Companies, Thrive Mortgage, Angel Oak Mortgage and AmeriHome Mortgage.
The event offered great exposure to MBA staff. A particularly big highlight for Rob was running into 2022 MBA Chairman and Wells Fargo EVP and Head of Home Lending Kristy Fercho, whose commitment to developing strategies to close the racial homeownership gap aligns perfectly with our vision at DPR.
Our team made use of all the valuable networking opportunities that IMB had to offer, both on the conference floor and out on the town in Nashville. With plenty of lenders in attendance, our EVP of Product and Operations Sean Moss had some great conversations with potential vendor partners.
Sean and Rob also met with leaders from ​​Mortgage Coach, Sales Boomerang and SimpleNexus to discuss product integration opportunities at the rooftop soiree hosted by our shared public relations team Depth Public Relations, where we warmed up the cold night with some warm rye whiskey and hot takes on the future of mortgage industry.
Other highlights from IMB22 include:
Prosperity Mortgage, one of our own IMB customers, speaking on stage about their journey to do more low-to-moderate income (LMI) business by embracing DPA
FormFree's Brent Chandler speaking on democratizing lending and the implications of Financial DNA stored in an encrypted, consumer-controlled NFT
Doreen Graves of the Tennessee Housing Development Agency (THDA) captivating the IMB22 audience during her presentation
MBA Tech – April 11-14, Las Vegas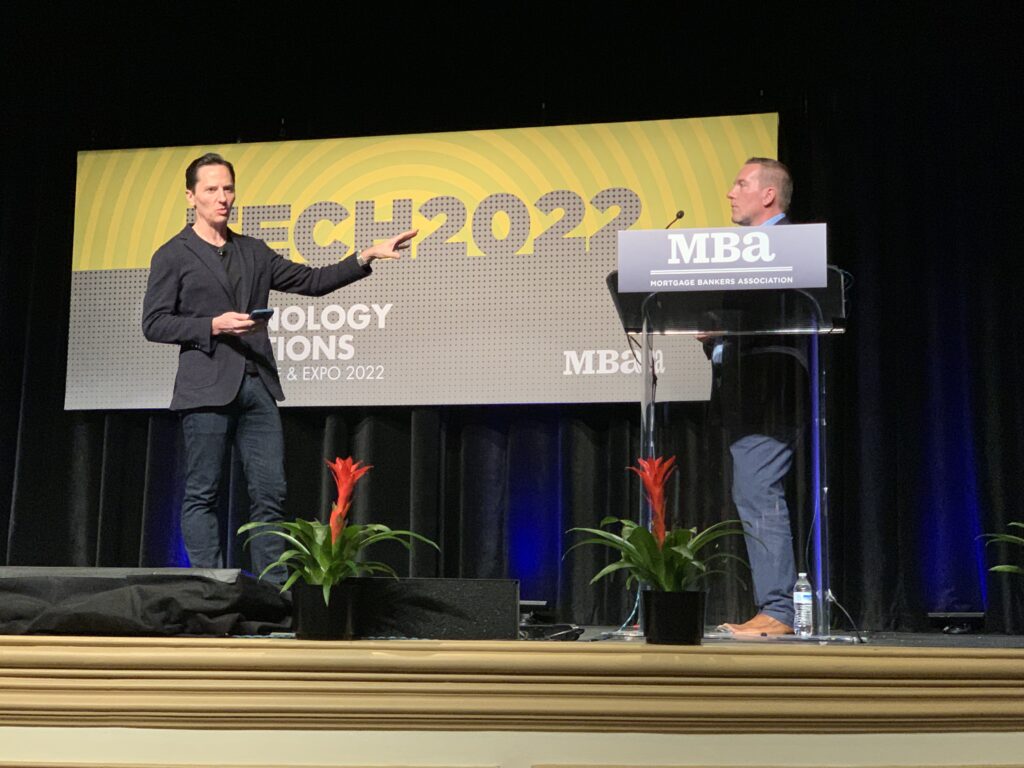 The next stop for our team was Las Vegas for the MBA Technology Solutions Conference and Expo (MBA Tech). DPR was an exhibitor and Sean Moss conducted a live demo of our DPA Directory. Although they say that whatever happens in Vegas stays in Vegas, our team brought home plenty of industry insights and promising new relationships from this event.
"We went into MBA Tech with our eyes open looking for vendors to partner with in addition to our core target market," Rob Chrane notes. "Spirits were high, and we had some lively impromptu meetings that turned out to be just as fruitful as some of the meetings we had planned weeks in advance."
Despite the conference's exciting location and atmosphere, this event made it clear that post-pandemic economic realities have some lenders worried about their bottom lines. Despite billions of dollars being spent on digital mortgage technologies, the cost to originate is back to an all-time high of roughly $9,500 per loan.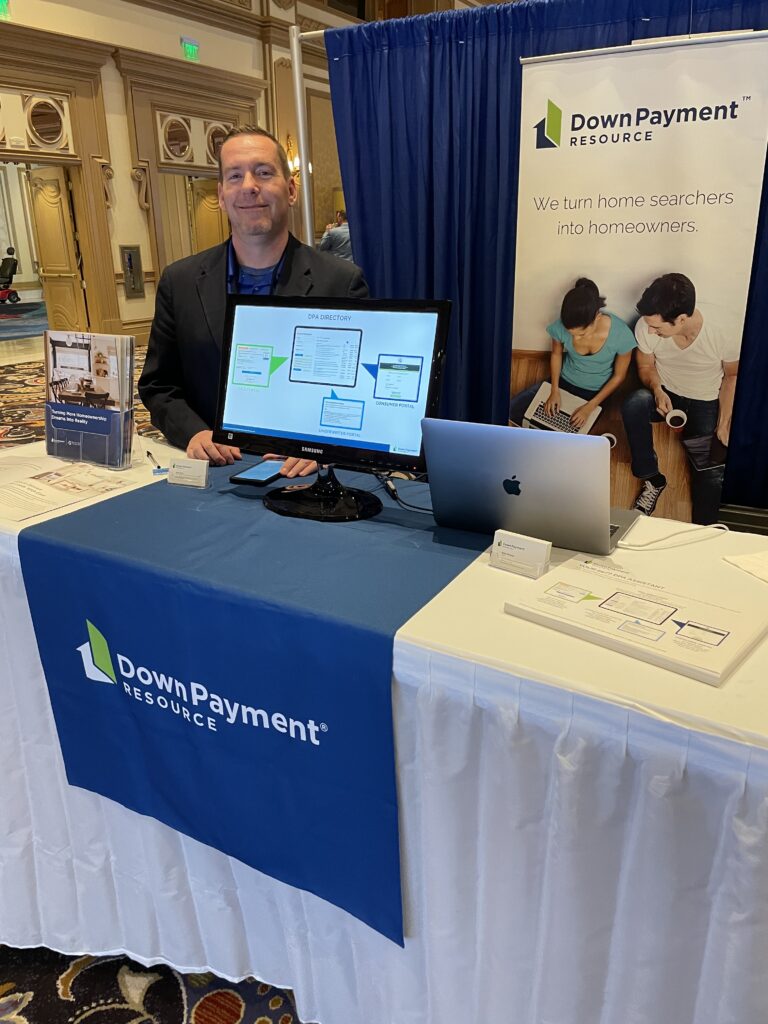 "While tech investments may have brought lenders greater operational efficiency and improved user experiences, the highest piece of the 'cost pie' is sales – and sales costs are not going down," says Rob Chrane.
There were many fascinating panel discussions, and it was energizing to get a look at other vendors' innovative products on the demo stage.
Notably, of the lenders we spoke to at MBA Tech, several believed that too many vendors are attempting to reinvent the wheel by recreating the same products – whether it's a loan origination software (LOS), point-of-sale solution (POS) or customer relationship management (CRM) solution. Our takeaway: lenders have seen enough of the same, and what they really want is a best-in-class, end-to-end tech package.
Some other highlights of MBA Tech included:
Happy hour overlooking the Bellagio fountain with our friends at Mortgage Coach and Sales Boomerang, some customers and some new potential prospects
DPR receiving a shoutout from Lori Brewer and Garth Graham during their speaking panel
NALHFA Annual – April 24-27, New York, NY
After getting only 10 days to recover from our time in Las Vegas, DPR was at it again in NYC kicking off the annual conference of The National Association of Local Housing Finance Agencies (NALHFA). The crowd was especially jovial, and DPR was warmly received and appreciated by everyone we talked with.
Notably, not only was this NALHFA's first live event since the pandemic struck, it was also where Rob finally met face-to-face with our VP of HFA Relations Veronica Khandelwal for the first time since she joined DPR nearly two years ago.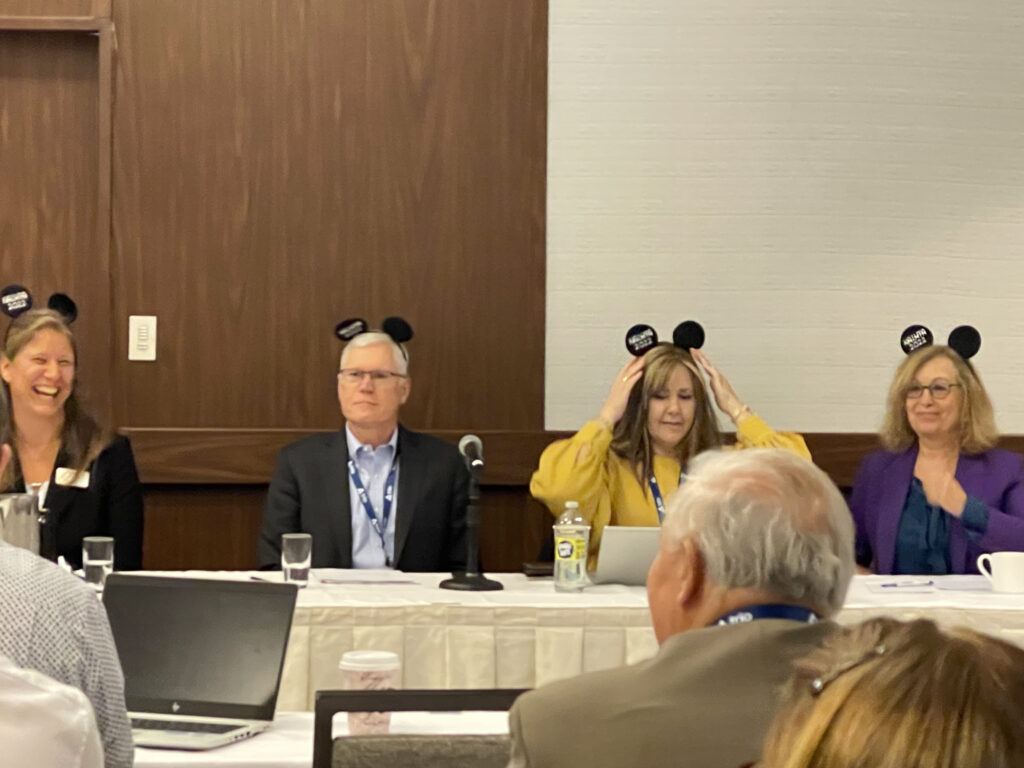 During the event, Rob was featured in a panel session on innovation and the evolution of DPA with representatives from the Nevada Rural Housing Authority, Stifel and S&P Global Ratings. He received exceptionally good feedback on his presentation, which explored how to revolutionize the homebuying experience for LMI and other underserved borrowers with tools that can level the playing field against cash offers. 
Rob notes, "I've found that Housing Finance Agency professionals often aren't as fatigued as mortgage bankers and vendors, so it was a treat to see such a spirited reaction from folks at NALHFA Annual as I discussed DPR's vision and the ways that DPA can empower LMI homebuyers."
An interesting takeaway from this conference was seeing just how different the industry looks in 2022 compared to 2020 and 2021. Investment bankers are rolling out new products in order to adapt to the current market's volatility and inflated interest rates. At the same time, HFAs' volume is being negatively impacted due to sky-high home prices, fast-rising rates and tight inventory. Fortunately, NALHFA Executive Director Jonathan Paine, CAE, is making great strides to revitalize the association both financially and otherwise.
Additional highlights from NALHFA Annual include:
A funny and entertaining panel with characters from the Nevada Rural Housing Authority (NVRH)
Hilltop Securities' rooftop reception at The Peninsula Hotel.
NAR Midyear – May 1-6, National Harbor, MD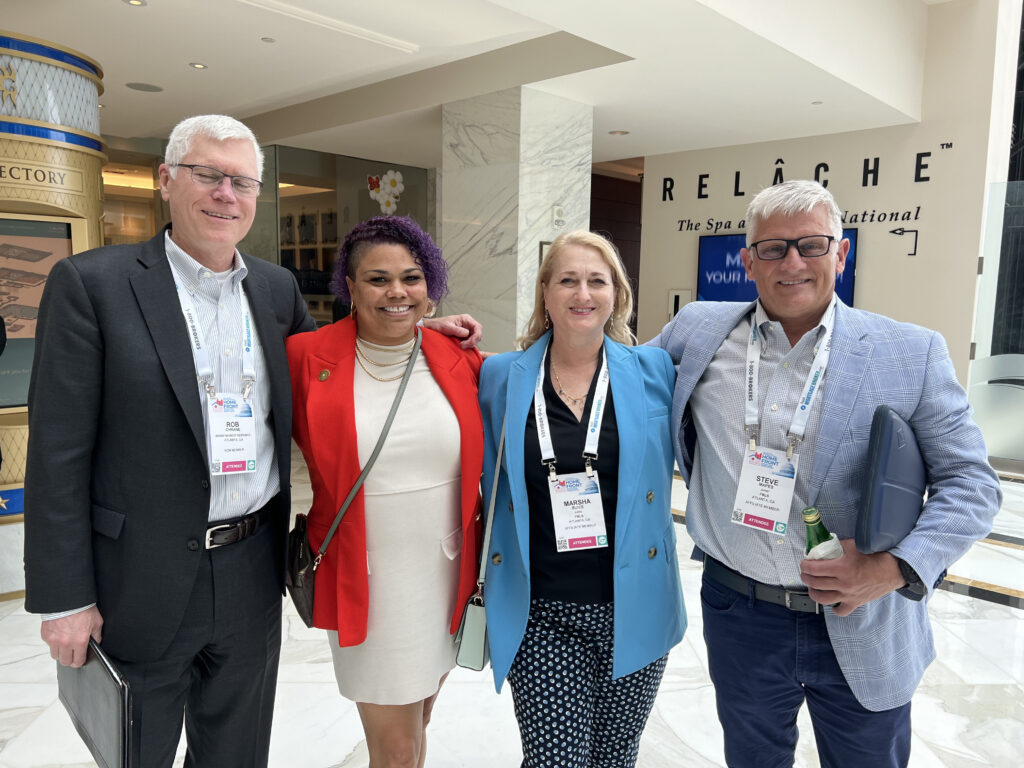 Our fourth and most recent in-person appearance this year was at the mid-year National Association of REALTORS® (NAR) Legislative Meetings Conference and Trade Expo (NAR Midyear). The event took place at the Gaylord National Resort and Convention Center. This proved to be a big improvement logistically, as there was no need to travel from hotel to hotel in downtown Washington D.C. to attend breakout sessions, meetings and post-conference events. 
On the opening day of the conference, Rob joined Census Bureau Director Robert Santos to present to NAR's Business Issues Policy Committee. During the session, Rob broke down some of the ways that NAR members can use DPR's directory of homebuyer assistance programs to help clients kickstart the journey to homeownership. It was well-received, and will hopefully open new doors for DPR to partner with NAR on DPA trainings.
In his presentation, Rob also pointed out DPR's growing influence in the real estate industry, explaining that, "Out of 1.4 million NAR members, around 500,000 have free access to DPR through their MLS, and another 250,000 access to DPR's eligibility finder on their state or local Realtor Association site."
Other highlights from our time at the NAR Midyear Conference include:
The venue's spacious skylit atrium, which was conducive to impromptu meetings with our current and prospective MLS customers
A shoutout for DPR from Maureen Schimmel of Realtor.com during her presentation to the Diversity Committee
An ideal balance of meetings with MLS customers and prospects, which resulted in a confirmed partnership commitment from SABOR
Upcoming events where you can meet us out in the wild!
If you'll be at the following events, we'd love to catch up. Drop us a line to schedule a meeting or just walk up and say hi.